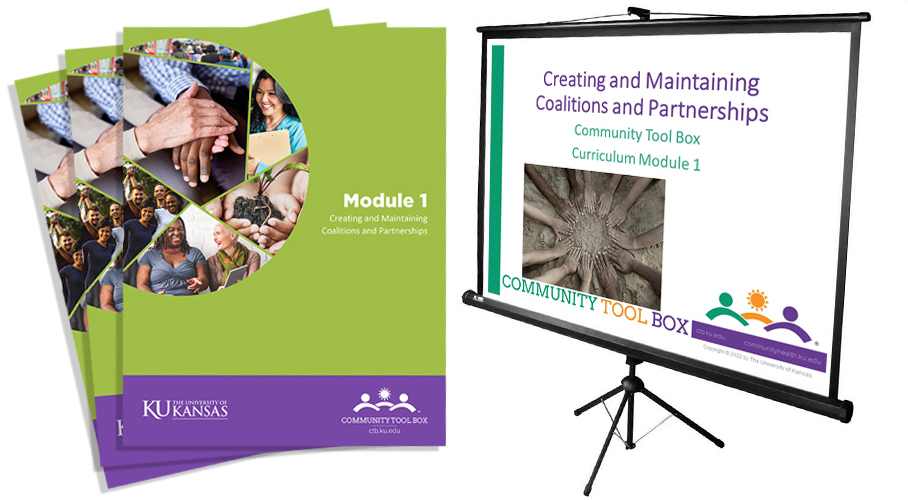 Obtain your own curriculum for teaching and training essential skills in change and improvement. Often used in trainings with organizations, community partnerships, and universities.
The Community Tool Box team developed a training curriculum designed for use in workshops, classes, and webinars to support core skills in community work. The sixteen training modules have been field-tested in a variety of settings, including coalition workshops, non-profit trainings, and college courses. Our staff is available to conduct these trainings, or you can engage your own experienced trainers.
Training Materials
Participant's Guides
Learning objectives
Readings, how-to information
Experiential activities
Facilitator's Kits
PowerPoint presentations with notes incorporated for facilitators
Watermarked copies of Participant Guides
Supplemental readings (web-based)
A breakdown of the lessons within each module can be found on this page.
What's Included
We offer 16 curriculum modules that cover various aspects of community-building adapted from material on the Community Tool Box website. These modules are a powerful tool, whether you simply desire to learn more about community-building or would like to facilitate a training on one of the aspects of community-building.
Two versions of each module are available for purchase, and both are offered in electronic format: A Participant's Guide in PDF ($6 each), which includes the module (workbook) itself from a student's perspective, or a Facilitator's Kit ($15 each), which includes a watermarked copy of the Participant's Guide (PDF), plus an editable PowerPoint presentation with detailed notes for the facilitator. Formerly, these notes were made available in separate Word documents called a Facilitator's Guide, but now that guide is incorporated into the Notes section of each PowerPoint for convenience and continuity during presentations. The kit is more appropriate if you would like to lead trainings on the modules.
We ask that each student involved in a curriculum training purchase his or her own copy of a Participant's Guide and that they not be shared, since it's copyrighted material. The Facilitator's Kit is a one-time purchase, and a teacher or group leader may instruct as many groups or classes from the same material as desired. This curriculum serves a source of revenue in order to sustain and maintain the Community Tool Box website, which offers over 7,000 pages of free resources for users around the world.
Should you decide to order any of the curriculum materials, all you would need to do is fill out the order form online. You'll receive an email confirmation after that with a link to process your payment via credit card. Once your order is paid, we'll prepare it for downloading and send you an email with instructions on how to do so. Turnaround time from order to e-delivery is typically less than 48 hours.
Curriculum Modules
MODULE 1: CREATING AND MAINTAINING COALITIONS AND PARTNERSHIPS
How to start a community coalition or collaborative partnership, and how to sustain its activities and effects
Determining who should be a part of a collaboration; understanding networking, communications, trust, and shared vision
MODULE 2: ASSESSING COMMUNITY NEEDS AND RESOURCES
Truly listening to and learning from community members about what matters to them
Methods for using multiple and diverse sources to gather information about community needs and assets for change
MODULE 3: ANALYZING PROBLEMS AND GOALS
How to conduct a thorough analysis of the community problem(s) and goal(s) that your effort will address, including analysis of key behaviors, personal and environmental factors, targets and agents of change, and potential solutions
MODULE 4: DEVELOPING A FRAMEWORK OR MODEL OF CHANGE
How to develop a logic model to guide your intervention
How to use a logic model as a support for your action planning and evaluation efforts
MODULE 5: DEVELOPING STRATEGIC AND ACTION PLANS
Importance of developing strategies and action plans and using them to guide and enhance your work
Skills required to develop a vision, mission, objectives, strategies and action plans
MODULE 6: BUILDING LEADERSHIP
Key principles of community work and involving as many people as possible in the leadership of the effort
How to create trust among participants and empower others for the purpose of shared leadership
MODULE 7: DEVELOPING AN INTERVENTION
Skills required to develop, select, adapt and implement interventions to fit the particular needs and cultural context of your community
MODULE 8: INCREASING PARTICIPATION AND MEMBERSHIP
Why it is crucial to intentionally involve others in the work, and engage them in ways that keep them involved over time
Key principles in outreach and recruitment
MODULE 9: ENHANCING CULTURAL COMPETENCE
Skills required to promote cultural competence and complete related personal and organizational assessments
Include diverse groups in the work of your organization, and work more effectively with people of different cultures
MODULE 10: ADVOCATING FOR CHANGE
Guidelines for effective advocacy
Advocacy techniques of varying intensity, and how potential advocacy tactics can help achieve your goals
MODULE 11: INFLUENCING POLICY DEVELOPMENT
Developing policy goals and plans, and how to gain support for policy options
Identifying what your group will do to advance its policy goals
MODULE 12: EVALUATING THE INITIATIVE
Developing useful evaluation questions consistent with your framework and intervention
Gathering evidence to address your evaluation questions, and how to use data to learn and make adjustments
MODULE 13: IMPLEMENTING A SOCIAL MARKETING EFFORT
Gathering information from and listening to your target group; developing and communicating messages that can reach people
Using principles of persuasion to encourage new practices through social marketing
MODULE 14: APPLYING FOR GRANTS
Steps for identifying potential funding sources
Step-by-step guidance in applying for grant funding
MODULE 15: IMPROVING ORGANIZATIONAL MANAGEMENT AND DEVELOPMENT
Developing governance and management structures and policies needed to govern and run your initiative
Ensuring excellent communication
MODULE 16: SUSTAINING THE WORK OR INITIATIVE
Twelve tactics for sustainability
Applying tactics for sustainability to your group's situation
Please don't hesitate to contact us with any questions!